The following contains spoilers for Justified: City Primeval Episode 7, "The Smoking Gun," which debuted Tuesday, August 22 on FX.
With the end of Justified: City Primeval on the horizon, the FX series introduces another flashback — this one to 1988, when Marcus "Sweety" Sweeton is alive and well and still has a promising music career. He talks to his bandmates about babysitting a young Carolyn Wilder after the death of her father. As if on cue, Carolyn emerges into the alley; later, Sweety brings her and his friends to the dilapidate site that will become his bar. The sequence is bittersweet, particularly when he talks about adding the jukebox that he'll ultimately be killed next to.
In the present day, a stone-faced Carolyn watches Sweety's body being loaded into a coroner's van. When Raylan Givens arrives on the scene, she finally begins to crack, before the two of them speak to Sweety's equally devastated partner. Carolyn nods to signal that Raylan is on their side, so Sweety's partner produces Clement Mansell's murder weapon — having retrieved it from the jukebox. "You're sure you can use it?" he asks desperately. "I'm sure," Raylan promises him. But given the title of the episode, Justified fans can already deduce that the weapon will be at the center of many problems before the end of the hour.
RELATED: Justified: City Primeval Uses Elmore Leonard's Book to Incredible Effect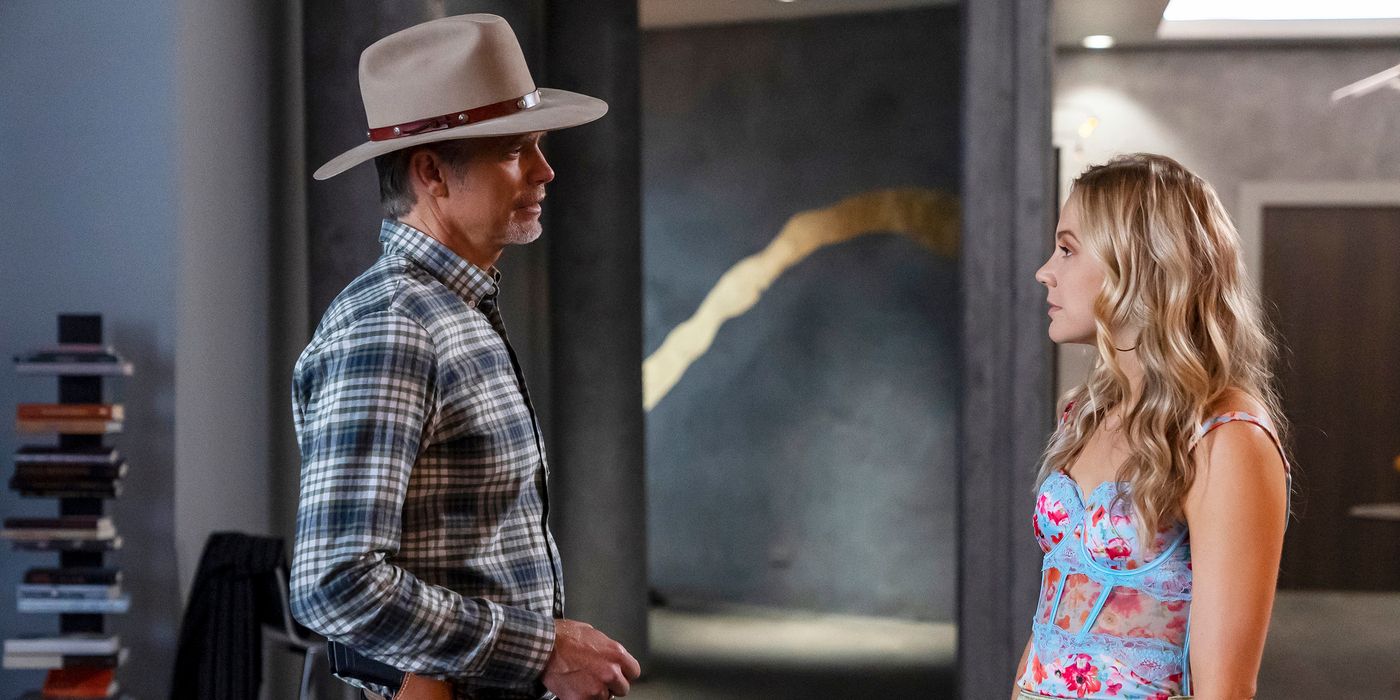 Back at the condo, Mansell is much less affected by the violence he initiated. He asks his girlfriend Sandy Stanton where the painting he stole from Burt Dickey is; she informs him she sold it so they can afford to leave Detroit. But it's not about the money to Mansell, who walks out as Raylan walks into the Detroit Police Department. Maureen Downey is waiting for him to discuss the overnight developments; he pulls her into a stairwell to show her the gun and implores her to get it forensically tested quickly. He then tells Sandy that he has the weapon — but Sandy doesn't believe Raylan can stop Mansell. She won't testify against him unless he's dead and buried, and even then she'd still worry about him coming back to hurt her.
"Why do you stay with him?" Raylan asks, reminding her that she was supposed to dispose of the gun and informing her what happened to the last person who upset Mansell. Sandy realizes she's in "big trouble" before Carolyn returns home to her own kind of trouble: Mansell is hanging out in her kitchen. He tells her the story about his mother — except this time the story ends with him murdering his mom and burying her body. Is that the truth or another lie just like the tornado bit? It doesn't really matter. Carolyn confronts him about taking "the only father I've ever known," and tells him she will no longer represent him as his lawyer. His response is to shove her into her fridge and try to choke her, but he leaves her alive for the time being.
A newly motivated Sandy visits Skender Lulgjaraj in the hospital and confesses to setting Skender up to be robbed. She wants to go away with him now instead of Mansell — but he tells her, with all sincerity, that she's a dead woman. The Albanians do not believe in forgiveness. Sandy's thus trying to pack her bags when Mansell returns to the penthouse, and asks point-blank if he loves her. She's upset that he's never played her any of his music; he's delighted by this, but as things turn intimate, it's clear Sandy is leading him on. Meanwhile, Raylan visits Carolyn after she informs him about Mansell's appearance; she wants to know how he's going to get Mansell's prints on the gun. She wants Mansell taken down definitively.
RELATED: Justified: City Primeval Gives Aunjanue Ellis Her Best Role Yet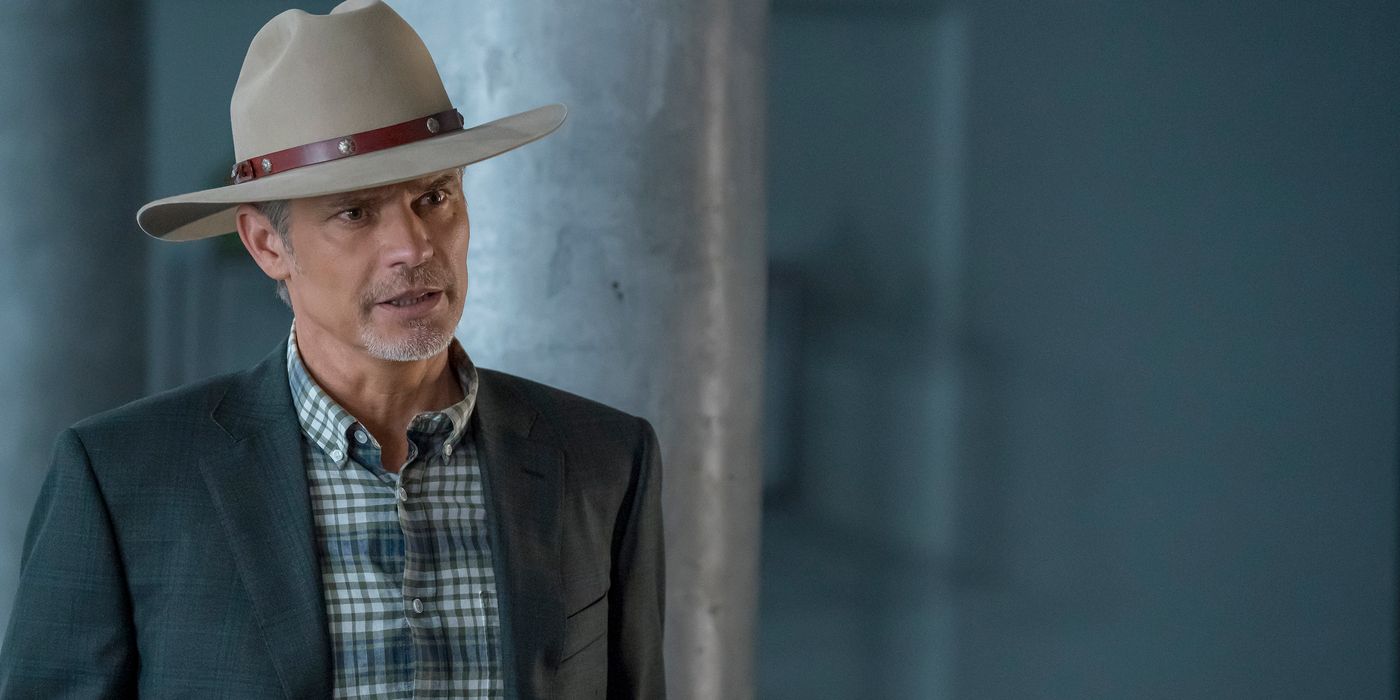 Raylan spends the night at Carolyn's home, but arrives at the department to find it swarmed by reporters because a suspect has been arrested in Judge's Guy's murder. It's not Mansell; but a man named Darrold Woods. Hearing this on the news, Carolyn seethes while Mansell awakens to find out Sandy has left him and Del, the man they originally swindled in the first City Primeval episode, wants his condo back. Raylan watches Maureen and Norbert Beryl interrogate Darrold, telling him that ballistic evidence ties him to the gun. Darrold asks for his lawyer. Afterward, Raylan confronts both detectives — and the previously amiable Maureen gives him an unexpectedly cold shoulder, telling him to "get back down to Florida."
The only one looking to get out of town is Sandy, who mistakenly answers a call from Del to hear Mansell on the other end. He threatens to hurt both of them if she doesn't return. While Sandy tells Mansell she's at the airport, Norbert refutes Raylan's claim that he's an asshole by handing over the package. Justified reveals that the phone call was a setup when Sandy tells Raylan where Mansell is expecting her to go; she likewise wants him to promise that he'll bring Mansell to justice. Carolyn is not thrilled with this plan, because she's now in league with the Albanians. The least thrilled about everything is Del, because Mansell shoots him in the head anyway.
At the Radisson hotel bar, Mansell isn't that surprised to be met by Raylan rather than his girlfriend. The two have a very Raylan and Boyd Crowder-esque moment as they casually discuss Mansell's future plans. Raylan offers out the package that Norbert gave him; it contains the murder weapon, minus two rounds fired for the aforementioned ballistics tests. Is the chance to shoot Raylan worth incriminating himself for two homicides? But before Mansell can decide, Toma and several Albanian henchmen arrive to collect them both. Mansell and Raylan find themselves sharing the back seat of a car, with a common enemy in the front and their destination unknown. And to Raylan's disgust, Toma throws the murder weapon in the river, just as Mansell had wanted all along.
Justified: City Primeval airs Tuesdays at 10:00 p.m. on FX.
on bbc news
on hindi news
on the news today
on channel 7 news
ôrf news
campo grande news ônibus
ôpera news
campo grande news greve de ônibus
l1 news horário dos ônibus
l1 news ônibus
lago azul news ônibus
news österreich
news österreich heute
news österreich aktuell
news öffentlicher dienst
news österreich corona
news öl
news österreich orf
news ö3
news österreich heute aktuell
news österreich sport
ö24 news
ölpreis news
öbb news
ösv news
österreich news krone
övp news
özil news
öffentlicher dienst news 2023
österreich promi news