Summary
Hulk recognizes Strong Guy's strength when Strong Guy absorbs and channels the Hulk's own strength, delivering a powerful attack that momentarily stuns the Hulk.
Strong Guy's unique power comes from his ability to gradually get stronger during a fight by absorbing and releasing kinetic energy, making him a formidable opponent.
While Strong Guy may not always be as strong as the Hulk, the fact that he could hurt the Hulk with his attack earns him the Hulk's respect and establishes him as Marvel Comics' most underrated powerhouse.
The physical strength exhibited by the Hulk throughout Marvel Comics history is unparalleled, making it incredibly significant anytime he gives credit to someone else's strength in relation to his own. While there are only a handful of Hulk-level heroes in existence, the Hulk himself added one more to the collective by complementing the strength of Marvel's most underrated powerhouse: Strong Guy.
Guido Carosella aka Strong Guy is a mutant with superhuman strength that varies depending on the amount of kinetic energy he absorbs and then quickly releases. When Guido is hit with an attack, he collects that energy and channels it through his own physical strength. He's always super strong, but during a fight with an opponent, he's constantly getting stronger with every hit he takes. The only downside to his mutation is that storing kinetic energy for too long causes his body to undergo painful, and potentially deadly distortion. Plus, Guido has a bad heart, so he can only take so much abuse in any given fight before he is killed. However, the extent of what Strong Guy can take is immense, proven true during his fight with the Hulk, where the Strongest Avenger actually recognizes how strong Strong Guy really is.
Strong Guy's Attack Actually Hurt Hulk, Confirming Guido's Strength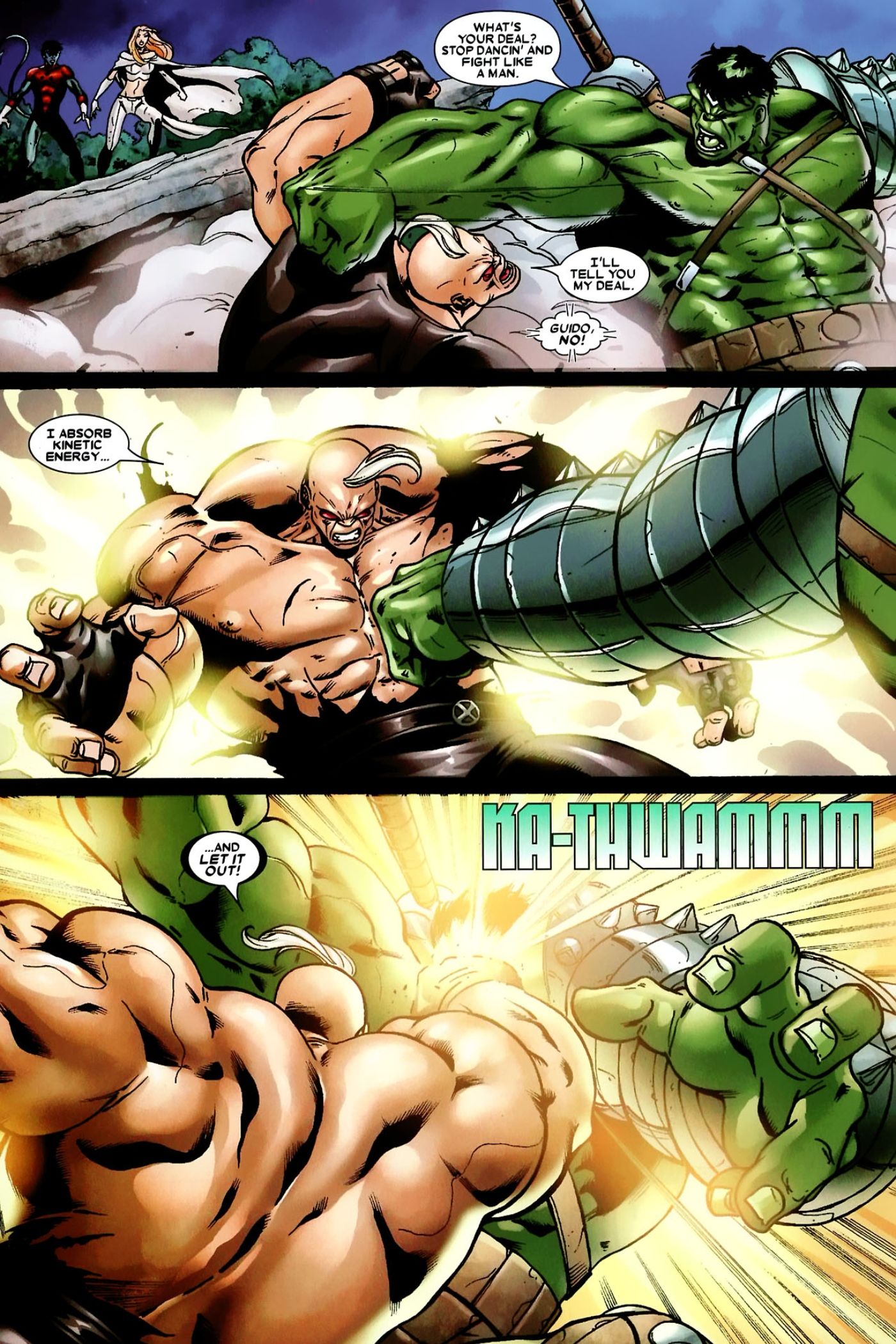 In World War Hulk: X-Men #3 by Chris Gage and Andrea Divito, the Hulk has stormed the X-Mansion in pursuit of Charles Xavier. Professor X is a member of the Illuminati, and while he wasn't present during the vote to send Hulk off-world, he admitted to the Hulk that he would have sided with the majority, as he also believes the Hulk is too dangerous to be left unchecked on Earth. So, that was enough for the Hulk to warrant punishment, though the X-Men and their allies weren't going to let that happen. One of the mutants who challenged Hulk was Strong Guy, who absorbed a direct punch from the Hulk, and then channeled that energy into his own strength, fueling an attack that left the Hulk momentarily stunned. The Hulk admitted to Strong Guy that he felt that attack, making Strong Guy a worthy opponent for the Hulk.
The strength of Strong Guy is interesting in that it's different from nearly every other Hulk-strength hero affiliated with the X-Men. For others, like the Juggernaut or Perro, their strength is their own, but for Guido, his strength comes from his opponent. The only reason Strong Guy is shown with Hulk-level strength in this issue is that he literally channeled the Hulk's strength through his own to attack him. While it's true that Strong Guy is inherently strong without absorbing anything, his real power comes from how he gradually gets stronger during a fight rather than getting weaker (which, as a side-note, is also incredibly similar to the Hulk). So, when he fought the Hulk, it only makes sense that he'd at least have one attack that matched the Hulk's strength.
Strong Guy isn't consistently as strong as the Hulk, but that's not really what the Hulk was implying when he complimented his strength. The fact that Guido took one of Hulk's punches, and then gave it right back in a way that actually hurt the Hulk was enough to earn the Hulk's respect. Sure, Strong Guy's not always at Hulk's level, but he always has the potential to reach that level of strength during battle, making him Marvel Comics' most underrated powerhouse.
on bbc news
on hindi news
on the news today
on channel 7 news
ôrf news
campo grande news ônibus
ôpera news
campo grande news greve de ônibus
l1 news horário dos ônibus
l1 news ônibus
lago azul news ônibus
news österreich
news österreich heute
news österreich aktuell
news öffentlicher dienst
news österreich corona
news öl
news österreich orf
news ö3
news österreich heute aktuell
news österreich sport
ö24 news
ölpreis news
öbb news
ösv news
österreich news krone
övp news
özil news
öffentlicher dienst news 2023
österreich promi news