The Big Picture
Hacksaw Ridge is applauded for its gritty realism and willingness to showcase the horrific details of war without nationalistic overtones.
The film honors the true story of Desmond Doss, a conscientious objector who saved numerous lives on the battlefield through his bravery and dedication as a medic.
While the film took some creative liberties with Doss' personal life, it closely followed his actions during the war and maintained the integrity of his story, humanizing him on screen.
Opening with the confronting scene of bloody faces and limp bodies, Hacksaw Ridge is applauded for its gritty realism and penchant to not shy away from the horrific details of war. The slow motion sequences exhibiting young men fighting for their lives but subsequently losing is completely devoid of nationalistic overtures that were present at the time — it simply represents the harsh reality on the battlefield. This gruesome representation of killing amplifies protagonist Desmond Doss' beliefs as a conscientious objector of violence. As he so aptly summarizes during his trial before going to war: "while everybody else is taking lives, I'm going to be saving it." Hacksaw Ridge is a film that honors the real Desmond Doss' story and his experience in the war zone as a medic. With Andrew Garfield masterfully playing the courageous Doss, the film highlights the life of a hero that proved taking arms isn't the only way to serve his country. Although producer Bill Mechanic and director Mel Gibson took a couple of creative liberties with Doss' personal life, they closely followed his actions during the war, as well as the grotesque visuals the film is renowned for.
The True Story of Desmond Doss from 'Hacksaw Ridge'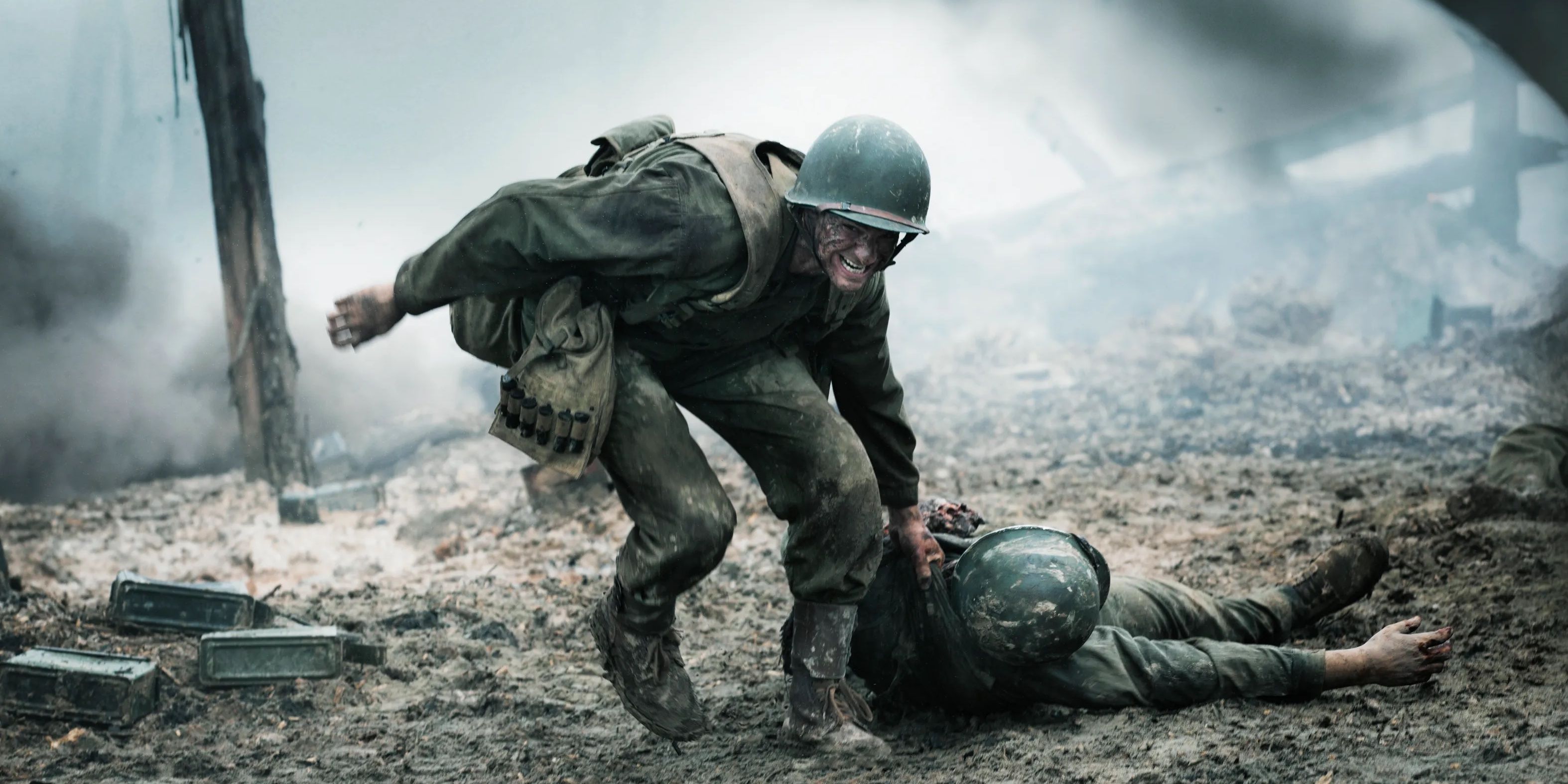 Hacksaw Ridge is based on the historical accounts of Private Desmond Doss, who walked onto the battlefield of the Maeda escarpment in April 1945, nicknamed "Hacksaw Ridge" because of the sheer cliff side, armed with nothing but his Bible and religious faith. The Battle of Okinawa was between the US and Japan and the mission Doss's team embarked upon was thought to be a definite death sentence. With the area fortified by a network of deadly machine guns and booby traps, Doss' team was ordered to retreat. Refusing to leave his fallen comrades behind, Doss repeatedly returned into the hail fire to single-handedly save another wounded soldier, all while chanting "Lord, please help me get one more." In the end, it was deemed that he had saved approximately 75 men, though he says it was 50 while his team claim it was 100, so the difference was split.
He had served as a medic in Guam and the Philippines prior to Battle of Okinawa, but it was his trials at Hacksaw Ridge that earned him his fame. The Japanese army had also been known for specifically targeting medics as well, increasing the stakes and danger for Doss. He ended up being injured by shrapnel and then breaking his arm from opposing fire before he was unable to further help his wounded comrades. On the 12th of October 1945, Doss was the first conscientious objector to be presented with the Medal of Honor. Doss' only son, Desmond Jr. commented during an interview with People, that the scars of war never really left his family: "The war is never over, and it was the same thing with my dad. It went on and on and on, and even after he's dead it's still going on now with this movie." But he takes solace in how his father's brave actions had impacted so many lives. "I did see on Facebook recently that someone had written that their grandfather wouldn't be alive without my dad saving them. So there is that connection," he tells People. "Something swirls up in you to think that someone you're close with made such a difference in people's lives. It's very heartwarming."
Is 'Hacksaw Ridge' Historically Accurate?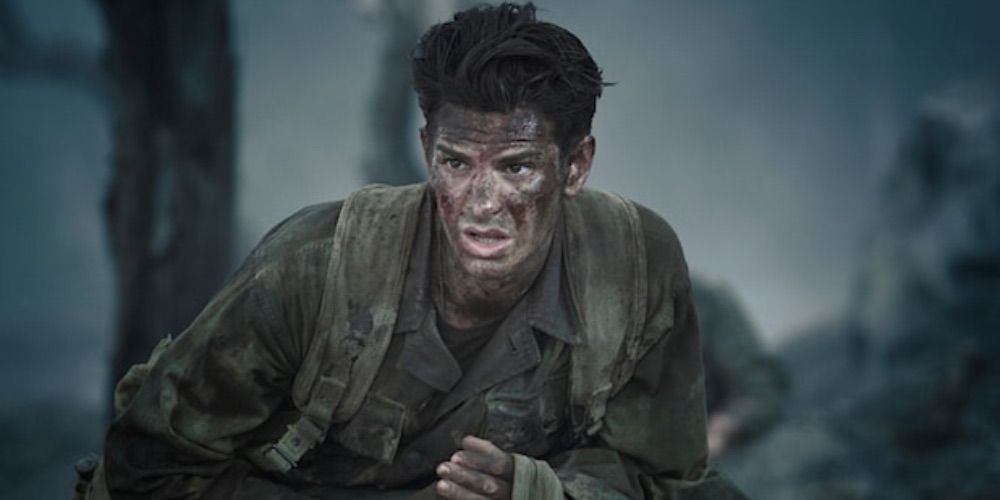 After receiving his Medal of Honor, multiple hopeful filmmakers and authors had approached Doss, but he continuously refused since none of them accepted his single requirement: to tell the truth. When Hacksaw Ridge was produced in 2016, it had been 10 years since Doss passed away, and thus he was unable to see the final product. However, his son describes Mechanic's and Gibson's fidelity to the gritty reality of war and to Doss' principles as "remarkable." The film did take a couple of creative liberties regarding Doss's familial and marital lives. In response to this deviation, Mechanic claims, during the same aforementioned interview, that "if you're a slave to the complete facts, then you're not making a movie that is compelling." With the film being both critically lauded and panned for its realism, it's safe to say these departures did not compromise the integrity of the story and mainly served to further humanize Doss on screen.
RELATED: 'Hacksaw Ridge' Review: The Passion of Desmond Doss
Both Doss' family and marriage were subjected to creative interpretation. The beginning of the film focuses on Doss' home life, particularly on an incident where he severely injured his brother (Nathaniel Buzolic) with a brick. There is a tense yet enlightening moment where Doss becomes captivated with a framed poster of the Ten Commandments, specifically on the phrase "Thou shalt not kill." This is drawn from a real event in Doss' life, where his commitment to the Church and religion begins with being enraptured by the Ten Commandments. However, one particular scene that was modified was the fight between his mother (Rachel Griffiths) and father (Hugo Weaving). In the film, Doss steps in between them and wrangles a gun out of his father's hands, who was a war veteran that had alcoholism and depression due to PTSD. However, in real life, this fight had happened between Doss' uncle and his father. There were also chronological changes in the events of Doss' marriage to Dorothy (Teresa Palmer). In real life, Doss and Dorothy got married before he had to leave for service whereas in the film, Doss missed the wedding because he was denied his pass and was put in a holding cell.
Doss preferred to label himself as a "'conscientious cooperator" in lieu of a "conscientious objector," since he was willing to serve for the army, just not willing to bear arms. This sparked great controversy among his comrades and superiors during training, as represented in the film. He was constantly heckled and physically bullied for his beliefs, and his superiors did indeed try to discharge him on the grounds of being mentally unfit to serve. Most of this abuse was dished out by the entirely fictional character of Smitty (Luke Bracey). Although there isn't any record of Smitty's existence, he was more of an embodiment of the group of soldiers that taunted Doss. Surpassing hardship on and off the battlefield, Doss' heroism lay in his dedication to his beliefs and courage to act on them. His inspiring story was brought to life by Garfield's talented acting skills and horrifying sets and makeup featured in this powerful production, Hacksaw Ridge.
on bbc news
on hindi news
on the news today
on channel 7 news
ôrf news
campo grande news ônibus
ôpera news
campo grande news greve de ônibus
l1 news horário dos ônibus
l1 news ônibus
lago azul news ônibus
news österreich
news österreich heute
news österreich aktuell
news öffentlicher dienst
news österreich corona
news öl
news österreich orf
news ö3
news österreich heute aktuell
news österreich sport
ö24 news
ölpreis news
öbb news
ösv news
österreich news krone
övp news
özil news
öffentlicher dienst news 2023
österreich promi news