These five manga have themes that will seriously make you revaluate your values in life and maybe even reconsider a few of them. Check it out!
5) Goodnight Punpun
"Goodnight Punpun" is a dive into the human psyche, exploring the darkness, fragility, and complexities of life. At its core, the story revolves around Punpun Punyama, depicted as a bird-like caricature, juxtaposed against a hyper-realistic world. This choice of depiction is not just aesthetic, but also symbolic of Punpun's detachment and alienation from the world around him. As we follow his journey from childhood to adulthood, the manga delves into themes of depression, trauma, the struggles of adolescence, familial issues, and the overarching search for purpose and identity. Relationships play a significant role in the narrative, showcasing both their destructive and healing powers. The intricacies of love, both romantic and familial, are dissected, often presenting the dual nature of these emotions: the ability to both heal and harm.
4) Vinland Saga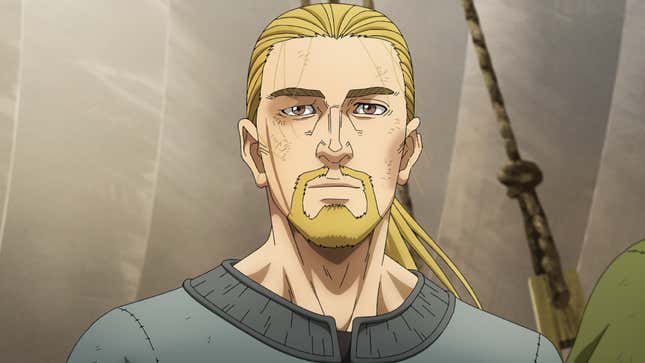 Thorfinn's journey of change has inspired many around the world. I'm sure you've heard the phrase "I have no enemies" thrown around the internet recently, but what does it really mean? The phrase is first spoken by Thorfinn's father Thors when Thorfinn was a child. The message Thors was trying to convey is that war, death and mindless killing is wrong and that humans should live a tranquil life of peace, hating nobody. The phrase has translated over to the real world, with many people being inspired by the words that Thors passed down to his son and striving to live a peaceful, hate-free life themselves.
3) Berserk
Guts' struggle is one that resonated heavy with fans in many different ways. Some people value their life a lot more after witnessing the horrors that Guts has been through, while some use that struggle as strength to pursue their own goals. Either way, Guts' hardship has helped a lot of people with their own problems in life.
2) A Silent Voice
Let's step away from the Seinen genre for a minute a take a look at A Silent Voice. This manga beautifully explores themes such as love, compassion, and regret towards one's past misdoings. Shoya growing up and understanding the cruelty of what he did raises a question in the reader's mind: have I done anything like this to someone I used to know? Not only that, but this manga makes you revaluate how to treat the people around you, whether you know them or not.
1) One Piece
One Piece has so many underlying themes beneath the main plot of pirates searching for treasure. The World Government in One Piece is terribly corrupt, many characters have tragic backstories which can be related to in different ways, and the series even touches on serious issues like slavery, racism and human experimentation. On a more cheerful note, One Piece's protagonist Luffy is dedicated to his dream of freedom, something that many others in the real world are striving for too.
Honorable Mention: High School DXD

You might think this is a joke, but nope – deadly serious. So many people around the world stop and think about whether they're doing enough to seek a romantic partner on a daily basis. Watching Issei with his harem of god knows how many women adds insult to injury, and if anything spurs them on to look for a partner themselves. If you don't believe this, there's plenty of pages on Reddit and similar sites where people tell their tale of how DXD has given them more confidence to get out there and find themselves a partner.
Conclusion
So there's the list, let us know what you think below. While you're here, check out our other posts at LAN. We cover everything anime related and are always doing our best to bring you the latest news and episode reviews! Today our recommendations are: 16bit Sensation: Another Layer Unveils Teaser Visual & Main Cast Members, My Instant Death Ability is So Overpowered Reveals Teaser PV & Release Date and Top 10 Most Iconic Anime Outfits: Making A Fashionable Statement.
on bbc news
on hindi news
on the news today
on channel 7 news
ôrf news
campo grande news ônibus
ôpera news
campo grande news greve de ônibus
l1 news horário dos ônibus
l1 news ônibus
lago azul news ônibus
news österreich
news österreich heute
news österreich aktuell
news öffentlicher dienst
news österreich corona
news öl
news österreich orf
news ö3
news österreich heute aktuell
news österreich sport
ö24 news
ölpreis news
öbb news
ösv news
österreich news krone
övp news
özil news
öffentlicher dienst news 2023
österreich promi news